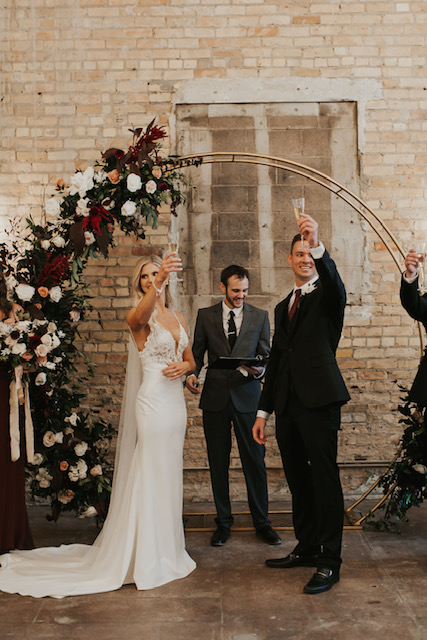 Should You Get Married in Winter?
I'm not going to lie — I love winter weddings. I love all weddings, but especially winter weddings. There's something so magical about having a wedding in the offseason. If you're lucky enough to live in a colder region, snow falls from the sky, capturing the most mystical photos. Winter isn't as overbooked with events like summer is, making it a heck of a lot more relaxed. Every wedding I've officiated in winter also seems to be heavily focused on the ceremony, which is of course what I love most. 
It's completely understandable not to want a wedding in winter. It's colder. It becomes dark earlier. People become cranky homebodies. So, why on earth would you ever consider hosting your wedding in the winter? 
I don't think this topic is discussed enough, so, here's a great list of reasons why you should get hitched in the winter, from an officiant's point of view.
1.
Vendors will be more available
Since winter weddings aren't as high in demand as other seasons, such as the Fall, any vendor you've ever wanted to have in your wedding or any venue you could dream of will most likely be available. And trust me, most of us are praying you'll have a winter wedding because it spices up our offseason. You have full reign of availability, and you have a greater chance of being able to book everything within a shorter time frame.
2.
Discounts! (Need I say more?)
There are plenty of venues that offer discounts on winter weddings, sometimes even thousands of dollars off the venue rental. If there was ever a venue you didn't think you could afford, take a peek at their winter pricing, and I'm guessing their pricing will be a lot more appealing. Saving money on the venue, a huge portion of a wedding budget, gives you the freedom to fit in all the little things you would have cut out otherwise. You could also just simply save money overall on your wedding.
3.
You won't have to compete for the date
You can bet a lot of your friends will be available in the wintertime. What else are they doing in the winter?! Attending your wedding is what they could be doing. 🙂 If you have your wedding in the summer or fall, you're more likely to compete with others getting married around the same time (whether you know them or not), friends on vacation, or just people being plain ol' busy. You'll also have less competition from other couples who have been scouting that date years longer than you have.
4.
Vendors are significantly more available during the weekdays.
Because your vendors won't be at a wedding, this makes their weekends open to meet! During the regular wedding season, it can be a lot harder to nail down time with a vendor, such as an officiant, since they are doing final meetings with couples and have almost all weekends unavailable to attend weddings booked. If you work a schedule that really only leaves your nights or weekends available and want some truly personalized attention from your vendors, a winter wedding will give you that option without the hassle of trying to work with so many schedules.
5.
You can be completely unique, easily.
Having a wedding in winter gives you so many chances to be unique with different themes and venues. It gives you the opportunity to try out different flowers, different dresses, different lighting — everything about a winter wedding has a completely distinct feel to it. If you're not the most creative of individuals, a winter wedding is a great start for trying something different than the rest while still completely staying true to the two of you.
Digging the info in this post? Have some of this professional knowledge in your wedding by booking with us below!
Four Elements to Consider When Planning Your Wedding Ceremony Around LightingWedding TipsA Lil Intro When planning your wedding, the first element...
read more
Book Your Ceremony
Once you've filled out this form, we'll get back to you within 24 hours to setup a video call. After the call, the contract we'll send you is valid for three days. We can't wait to meet you!
If you have any troubles filling out this form, contact us directly at [email protected].