An Inside Peek
"We wanted the ceremony to be laid back with a mixture of humor and romance added in."
– Jena
Oh Jena and Zach. Where to begin? 
During a quiet moment of the pandemic, Jena and Zach booked me for their elopement in Wyoming. I will be the first to admit that if you had asked me to marry you pre-pandemic in Wyoming, I probably would have said no. Wyoming? What's in Wyoming? To my surprise, INCREDIBLE VIEWS!
Jena also works in the wedding industry offering hair and makeup and oftentimes during our calls, we chatted about our woes about weddings during the pandemic and experiences building a business throughout the years. Meeting with them over Zoom were the most fun hours I probably could have spent with a couple. Their stark contrast in personalities – Jena being the loud (but in the best way) talkative one while Zach the quieter of the two – provided ample entertainment and content for me to write. 
Since the ceremony consisted only of the two of them and their parents, writing a ceremony that truly encapsulated all of the feelings they had seven years prior was significantly important. When writing an elopement ceremony, I love to write it as if I'm speaking directly to the couple (which I am!) as a conversation rather than preaching to an audience that isn't there. I find that this creates an even more intimate elopement experience rather than feeling like a weird moment the couple needs to check off their list before moving on with the rest of their day. 
If you're officiating your friend's elopement with immediate family and aren't sure how to write the ceremony, first know that you don't need to tell their entire backstory. They know it. What's more important is hitting the highlight moments of their lives together and the feelings they experienced throughout their relationship. Often in wedding ceremonies, we hear the same ol' text, even when it's just a small ceremony, which is bizarre to me.
"We definitely wanted the writing to represent us. We didn't want the typical scripted ceremony that you hear at every wedding. "- Jena
An elopement ceremony is similar to developing the character arch of any story. When you're trying to figure out where the character begins in the story and who they will become at the end, that's the arch. An elopement ceremony should be the same, capturing who the couple was prior to meeting and sharing their transformation as they grew together. 
If we look at the space around us, there isn't a better spot for you two to begin this next journey in your lives together. Nature endures years of formation, disasters, thunderstorms and tornadoes to finally form something wonderful, almost miraculous. When we wonder why the rain doesn't stop, why rounds of hail continue to fall, we're reminded that all beautiful elements of life must go through some sort of tragedy to shine. Because without those moments, this lake, all of us here, this very moment, wouldn't exist. 
Jena and Zach were also the first couple I heavily worked on The Vow Journal with. For those of you who haven't worked with me, The Vow Journal is a digital booklet with prompts to help the couple reflect on their relationship and thus help them write their vows. Working with them closely on the journal further allowed me to get to know them on an even deeper level, one that might have been emotionally challenging to share with a stranger but ultimately gave them the space to share these emotions in their ceremony. 
The day of their ceremony couldn't have been anymore beautiful. On a perfect, sunny Wyoming day, I drove the two hour-ish drive up the mountains to meet Jena and Zach at their elopement destination in Cody, Wyoming close to sunset. Their photographers captured beautiful, stunning images of them in a quiet, serene setting in the mountains, creating one of the most spectacular elopements I've seen as their ceremony began. 
These few moments of relaxation outdoors, these few moments when the world stops for a few seconds, will be the foundation of your marriage. This, this, is what it truly means to be married – to be alive, to be living alongside the other, to be experiencing everything life has to offer.
After the ceremony, one of their parents mentioned that they had never traveled on a plane before then, their first time being for their children's wedding. "It opened a whole new world for me!" Sometimes, it's those little things in life that remind me why I do this and why elopements are so important. Love always opens a new world for us.
Jena and Zach's Vendor Team
See More Featured Weddings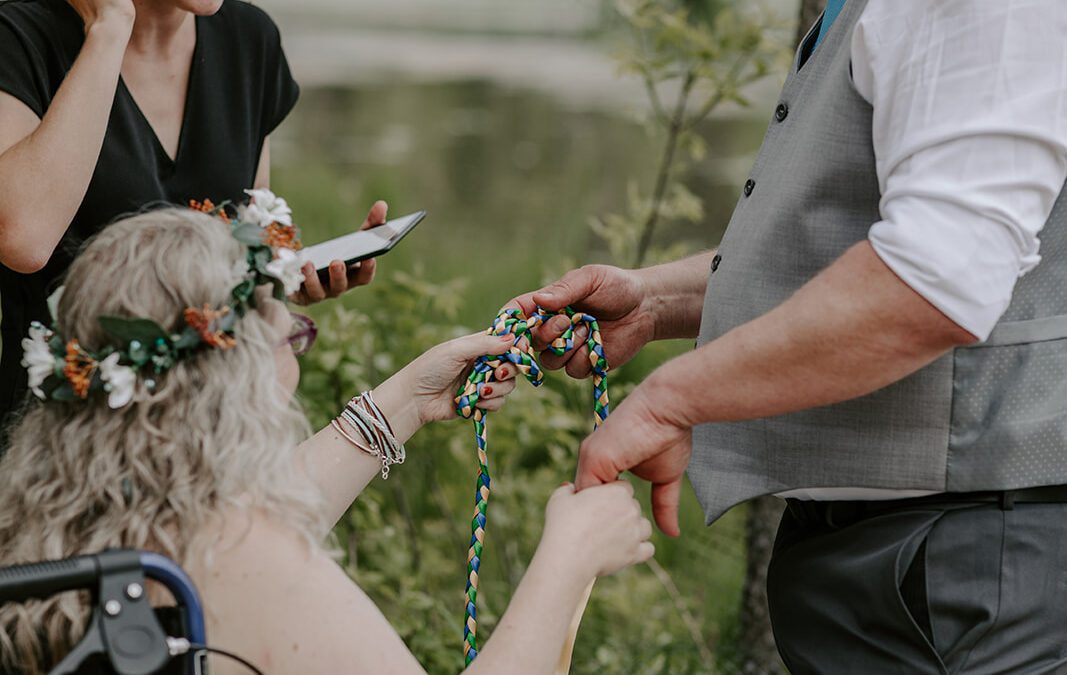 MinnesotaKristi and Tim's Intimate Elopement on the Shores of MinnesotaCEREMONY IDEAS Wedding details: Season: SummerReligion:...
read more
Book Your Ceremony
Once you've filled out this form, we'll get back to you within 24 hours to setup a video call. After the call, the contract we'll send you is valid for three days. We can't wait to meet you!
If you have any troubles filling out this form, contact us directly at [email protected].