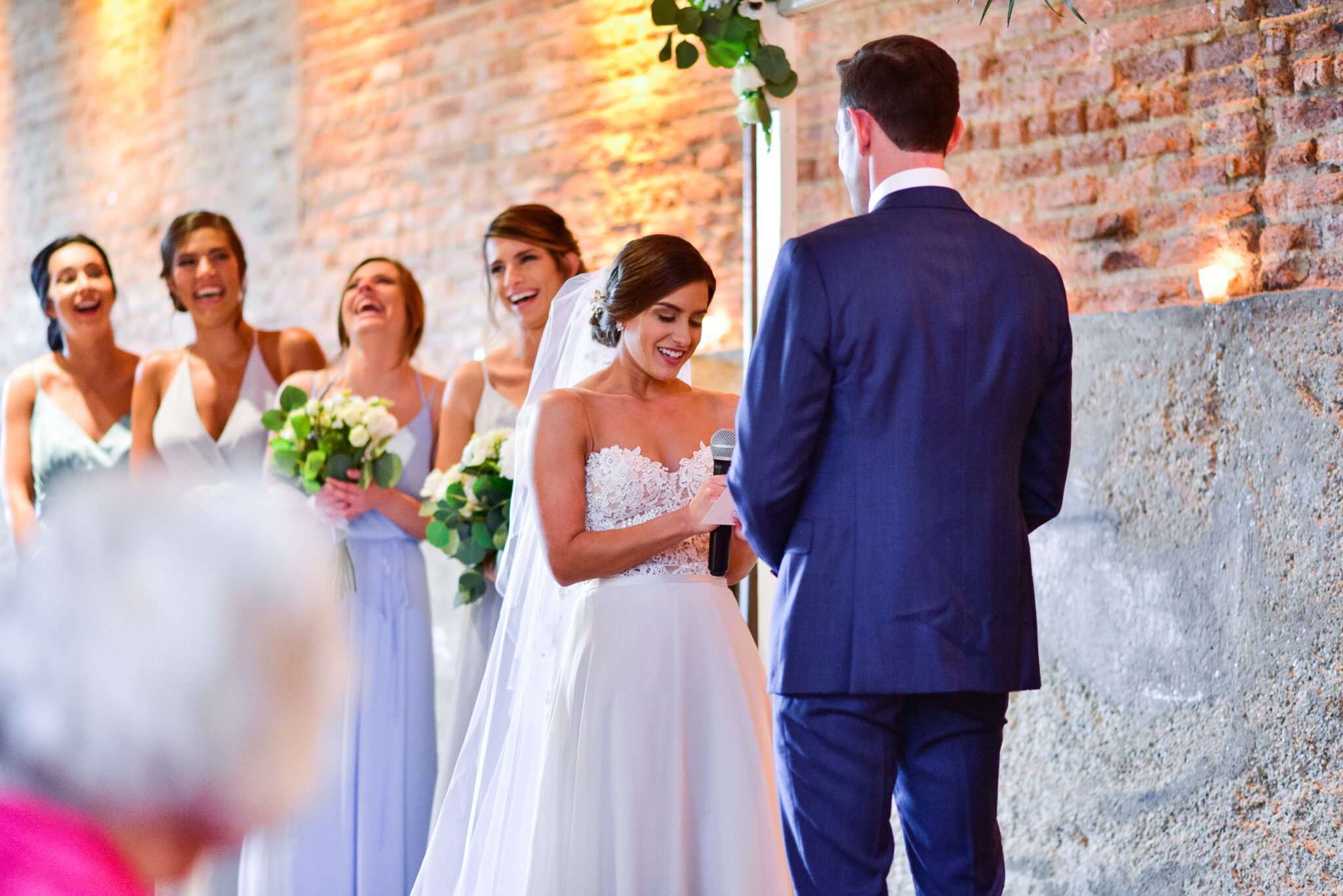 An Inside Peek
"We wanted our ceremony to be unique, light hearted, but include our love story. Writing our own vows was important to us and we wanted our readings to be far from generic and really reflect us."
-Brigette
Brigette and Michael have that classic "we met at work" kind of story that rarely happens nowadays. From working on the same floor to casually having conversations in elevators to finally being assigned on the same project after Michael asked Brigette out countless times. What I love about couples who meet at work is that small detail we tend to forget about in our lives – we could have been anywhere else in the world, but instead, we were there. 
I'm the kind of person who likes to think "what if?" when writing ceremonies, wondering what would have happened had either of them chosen a different job or chosen a different set of work friends. Would they have met? Would they have eventually run into one another given their similar set of values and hobbies? Michael, a serial hobbyist, probably would have somehow found a way to connect to Brigette through one of his various interests, especially his love for pizza, and this wonder as to whether or not a couple still would have found one another is what I truly love about weddings. There's always a perfect time and place for two people to meet, and I'm positive their job couldn't have been a better time. 
A wedding is a culmination of all the times we do remember — the first introduction by mutual friends at work, the nights spent making overly complex dinners (that sometimes don't pan out),  teaching and sharing in each other hobbies, meeting the truly special friends and family that shaped and molded the person you love, and to becoming fur parents of your special guy Elvis. It's also all of the occasions we may not remember or realize on a daily basis — the witty banter shared over dinners, laughing aaaand maybe arguing about past memories – memories are faulty, right? – trying to keep up with all of the hobbies Michael has compulsively entertained. 
Brigette and Michael are the kind of couple you go to when you want to figure out what to do on a Friday night. They've likely got something planned, whether that's learning a new recipe, hanging with their dog Elvis, or listening to the Beatles endlessly. They're the kind of couple who will introduce you to something new about the city you live in, regardless of how long you've lived there. We both lived in Logan Square, Chicago at the time, and even after living there for years, I didn't know half of the pizza places they introduced me to. I'll forever be grateful for their pizza knowledge!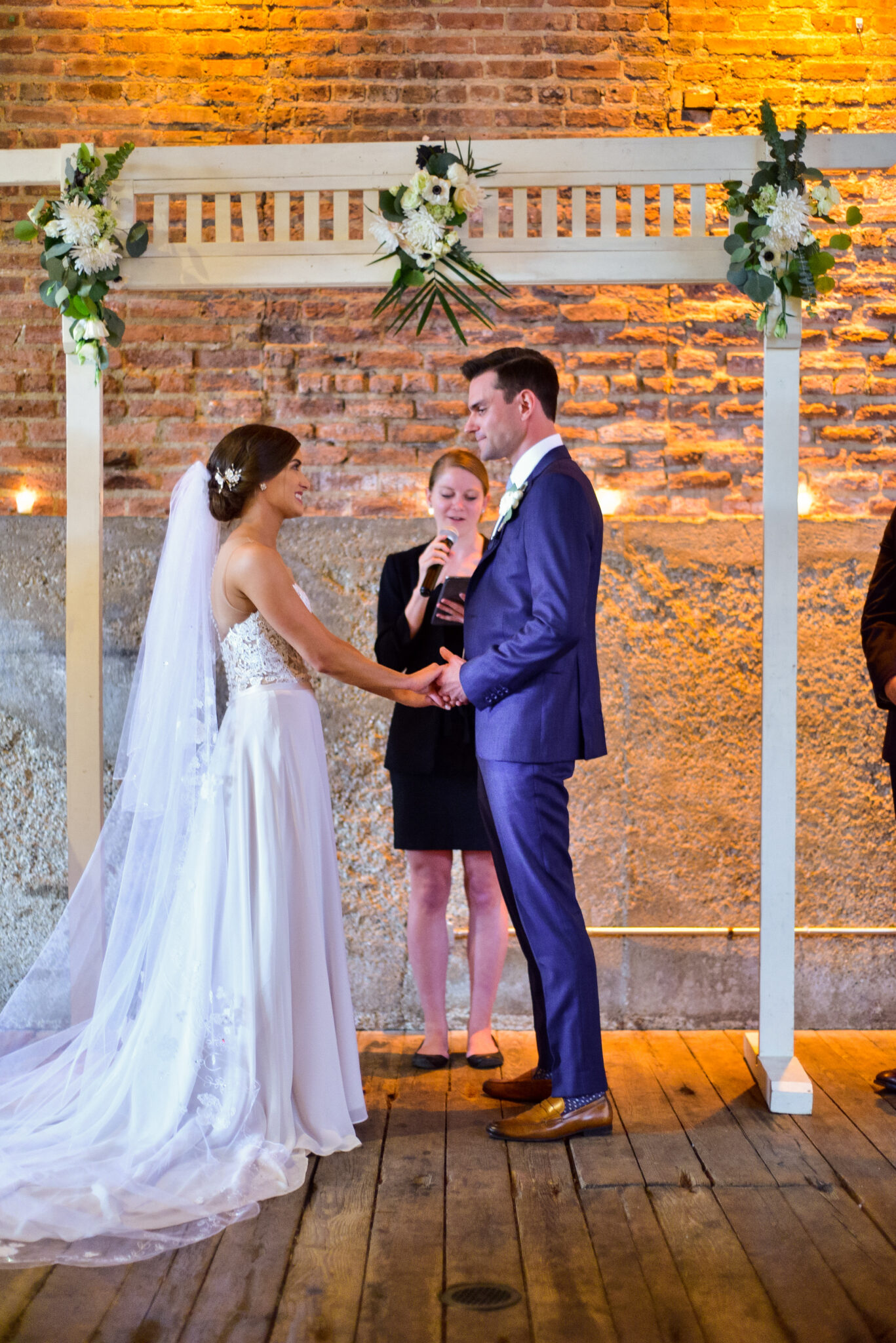 "I'd say the most important thing about our ceremony was that it really represented us as a couple. We wanted our ceremony to be short and sweet but intimate and for guests to really feel our love for one another shine through. " – Brigette
Even though they had plenty of interests to talk about, keeping the ceremony simple while including some chosen family members became the highlight of the ceremony itself. Brigette and Michael aren't the kind of over-the-top, cheesy people, but rather the kind that finds symbolism in the every day, such as various lines from Beatles tunes. For their reading, they strung together their favorite lyrics into one cohesive, fantastic piece read by Brigette's high school friend and roommate. Michael's sister later read a piece they chose together as well. 
Life, while short, is full of incredibly beautiful moments we are so lucky to share with the people we meet who enhance our lives. Cherish every day you have together, indulging in pizzas, cooking side by side, and enjoying all that life has to offer you. Laugh at anything and everything, never forget to tell one another, "I love you" everyday, and dream together. 
Their simple, unique yet custom Chicago wedding ceremony kicked off their day shared with a hundred or so of their closest family and friends, reminiscing about all of Michael's hobbies and Brigette's love for animals. Sometimes, the best ceremonies are the ones that solely focus on what brings a couple together, adding their story throughout the ceremony while giving them space and time to reflect back on that while moving forward in their wedding day. 
Brigette and Michael's Chicago wedding ceremony took place at Gallery 1028, the perfect setting for them to decorate the place as they would like. They chose vendors that all gave back to the community, obtaining their candles from a company that employs homeless women to melt the candles. They strung subtle memories of their love throughout the venue, using a Beatles record as their guestbook alongside photos of them during their relationship. If you're looking for a fantastic spot to have your Chicago wedding ceremony, Gallery 1028 is it!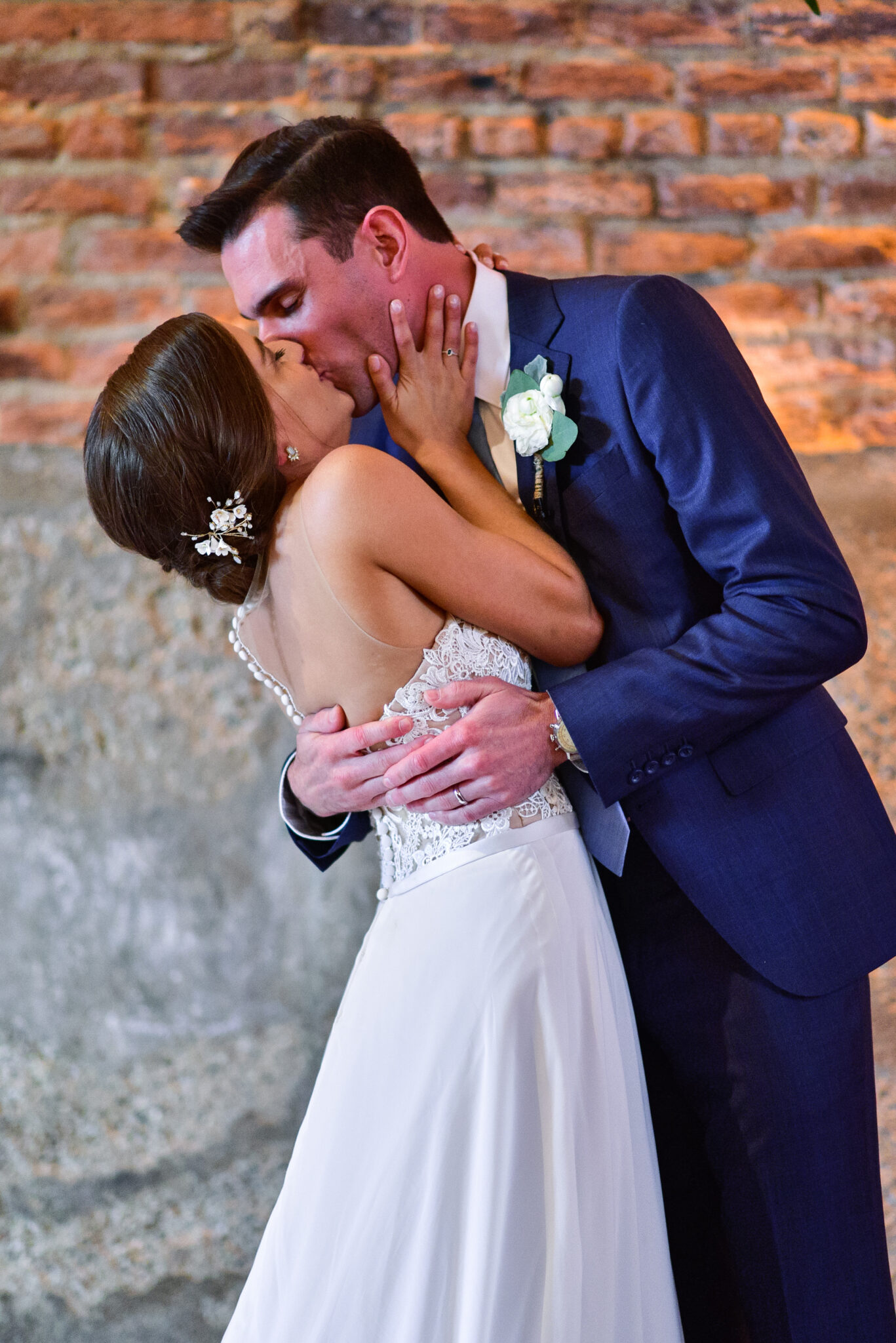 Brigette and Michael's Vendor Team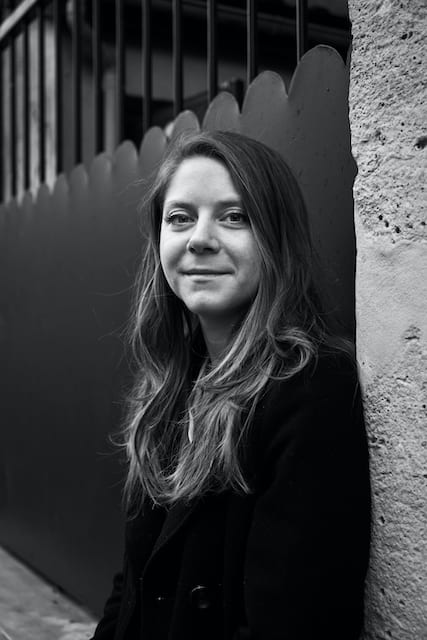 Liz
Founder + Officiant
(she/her)
Liz, a Chicago wedding officiant, founded Liz Rae & Co in 2015 during her best friend Maranda's engagement. Her friend, Timmie, at the time also struggled with finding an LGBTQ-friendly officiant that custom-wrote ceremonies. Liz believes the ceremony is the best part of the wedding day and wanted to make a change in the industry by emphasizing not only the importance of marriage ceremonies but inclusivity as well.
Since starting her business, Liz has officiated over 400 ceremonies across the US and Europe. She started Vows Well Traveled shortly after to plan custom elopements and small weddings for international couples.
When she isn't writing ceremonies, she works for a tech company during the day and a film production company by night. She's been writing her whole life, but gained her storytelling knowledge through Faber Academy's novel program and UCLA's TV and Film Writing degree. You can read some of her writing on her website, Liz Rae and more notably on Thought Catalog.  She writes freelance for a variety of clients in various industries.
See More Featured Weddings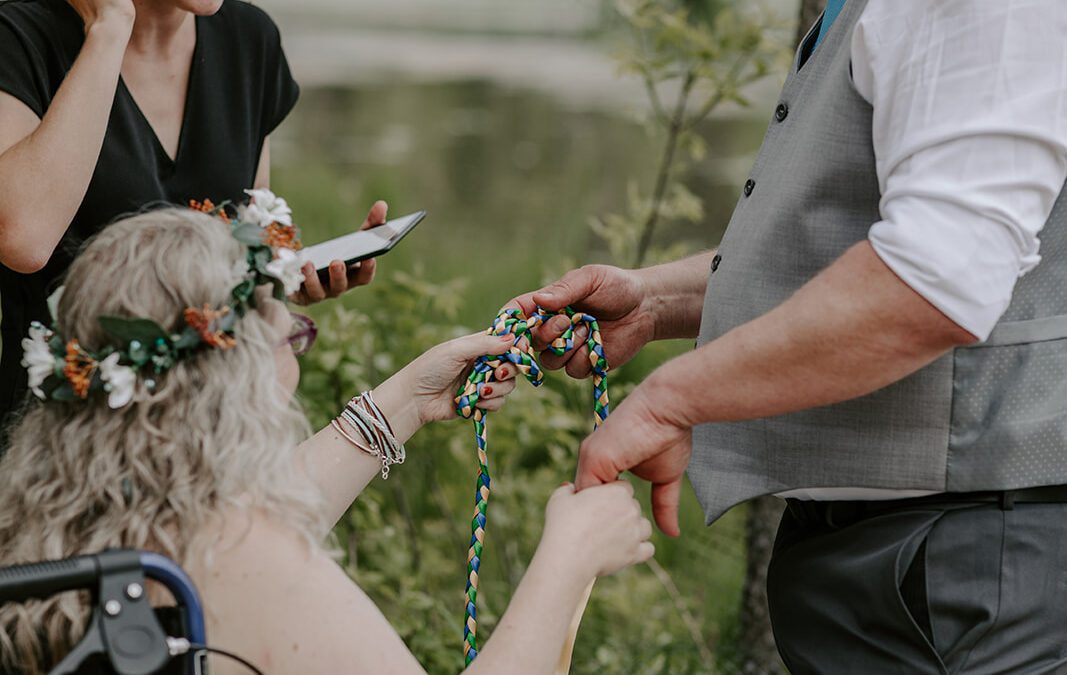 MinnesotaKristi and Tim's Intimate Elopement on the Shores of MinnesotaCEREMONY IDEAS Wedding details: Season: SummerReligion:...
read more
Book Your Ceremony
Once you've filled out this form, we'll get back to you within 24 hours to setup a video call. After the call, the contract we'll send you is valid for three days. We can't wait to meet you!
If you have any troubles filling out this form, contact us directly at [email protected].