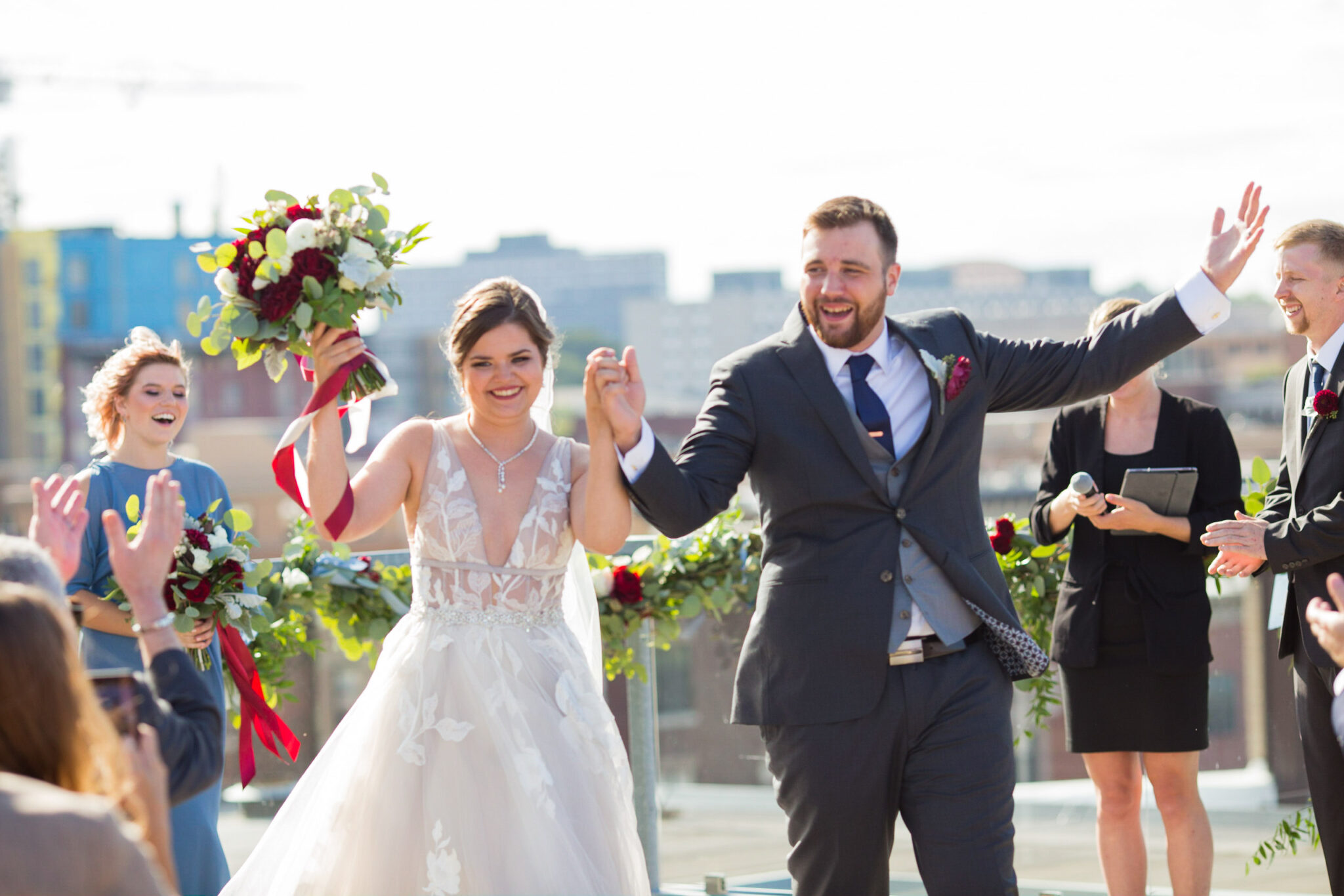 An Inside Peek
"We knew going in to it that we didn't want a religious ceremony, and we wanted it to be more fun and lighthearted rather than a very serious ceremony. We wanted something that would feel true to us and our relationship and not feel like it was something generic or something that could be used for anybody.  The most important thing about the ceremony for us was that it was personalized, unique, and fun"
– Andrea
The first time I met with Andrea and Dylan, it was like hanging with friends from high school that I hadn't seen in a while. But friends that I actually want to see, not the ones I kindly ignore upon passing. (Just kidding, I don't do that.) (Ok, maybe sometimes I do. I'm shy.) They're welcoming, warm, and an overall joy to be around, poking fun at the other while also being 100% supportive of whatever it is the other does. 
Being the car salesman Dylan is, he tends to toss plenty of jokes into conversations, never ceasing to entertain while Andrea casually reels him back in to the point he was originally aiming for. While it was tempting to write a ceremony that would keep guests wondering where the hell we were going with anything to emulate Dylan, striking a balance between exciting and entertaining with a little sprinkle of love was more realistic.  
As with most of the couples I work with, the first few meetings were to simply get to know them both over coffee, dinner and drinks. With Andrea and Dylan, it was important to me to focus the majority of their ceremony on their relationship and personalities, the core of their relationship.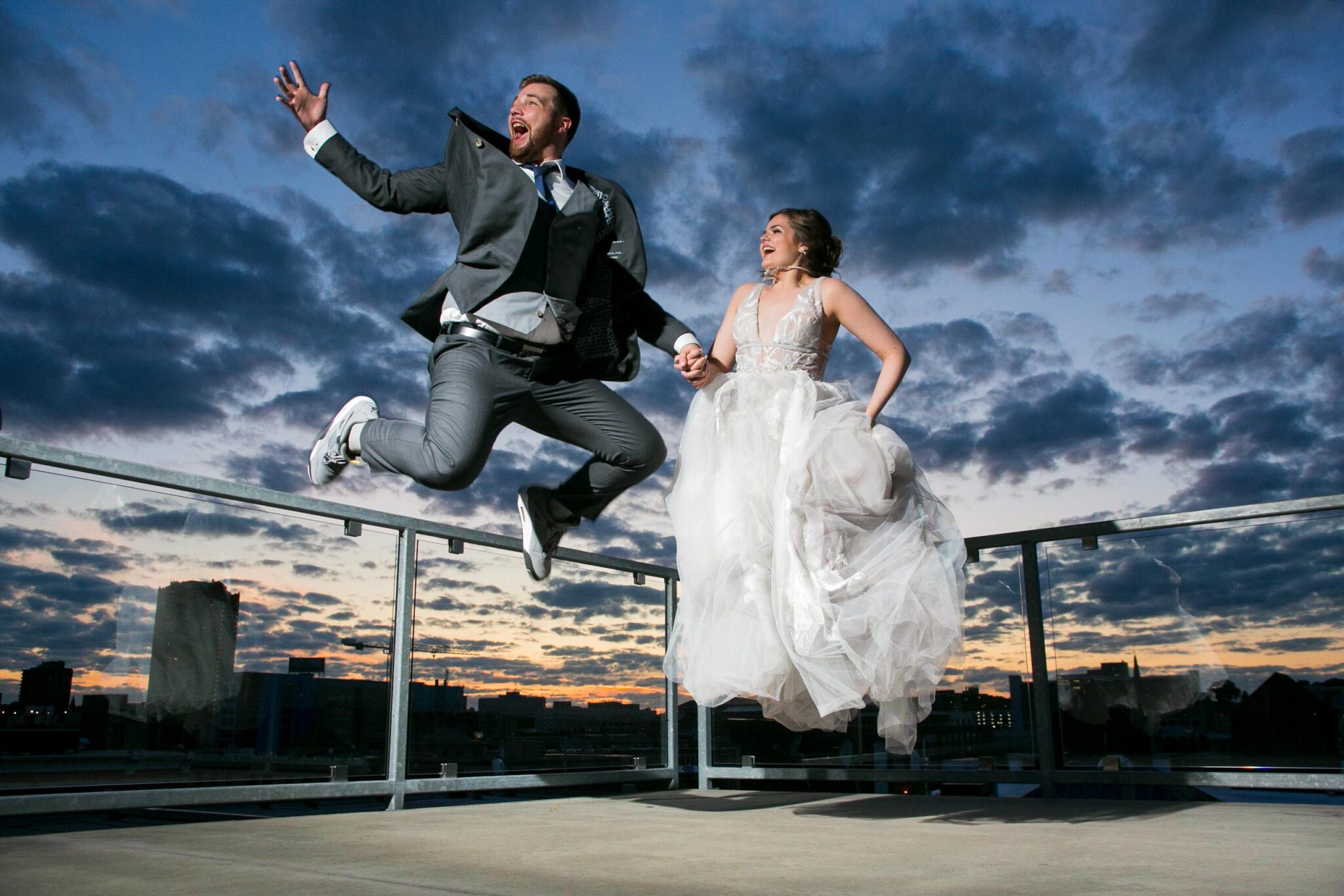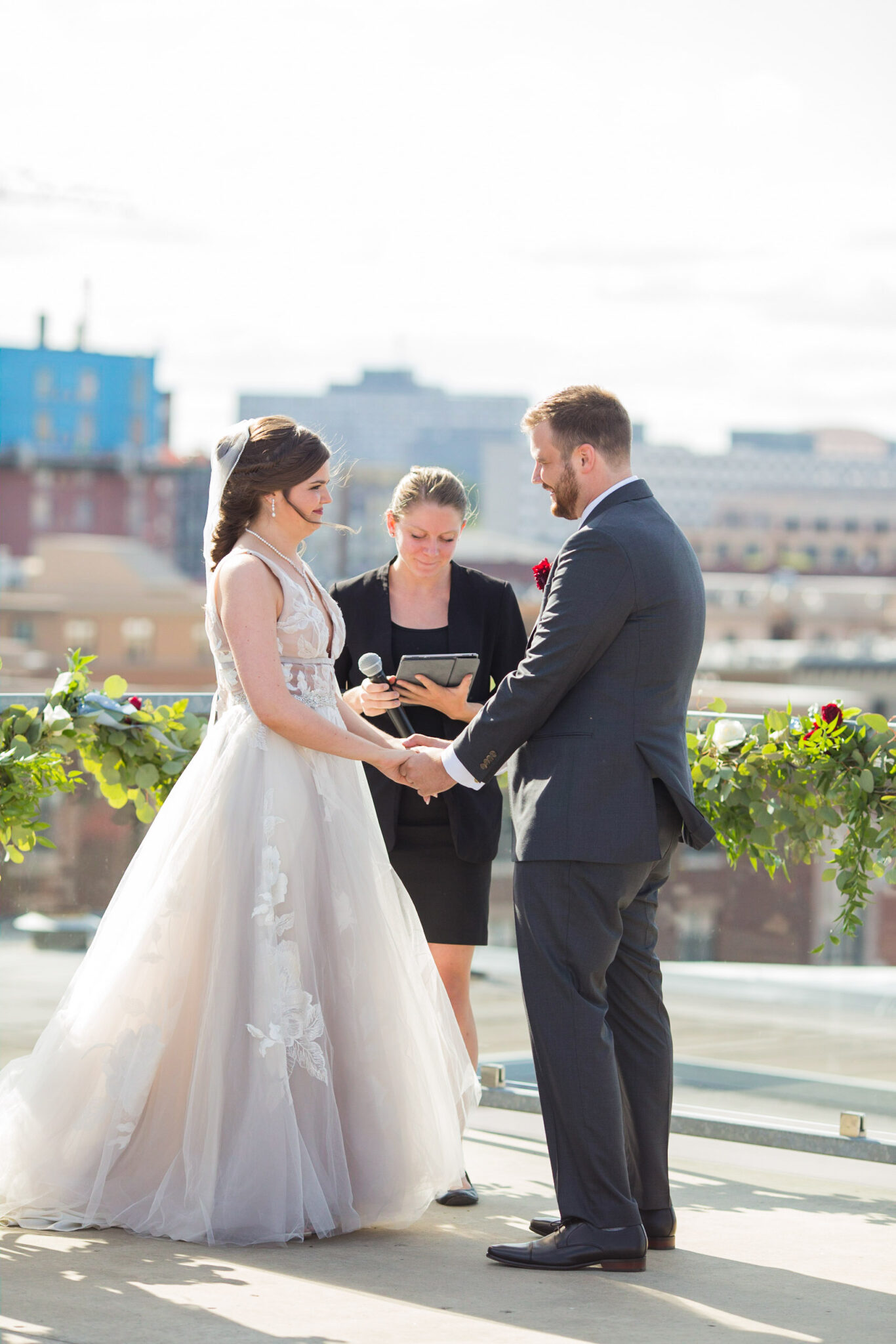 "We're here to celebrate how, for a very long time, Dylan was significantly more interested in Andrea than she was interested in him. It's impossible to forget the night Andrea needed a ride home in which Dylan so graciously volunteered to drive her back in his extremely loud, old maroon Buick. There wasn't anything more romantic than the way they had to scream at each other over the radio, turned on to drown out the screeching noises from the car, losing their voices to keep up a conversation as he drove her home. "
When writing a ceremony that's heavily story-based, weaving bits of the story into the ceremony while also reflecting back on how each of those stories told relate to the couple today strikes a balance most guests won't expect to hear in a wedding. The opening lines of Andrea and Dylan's ceremony reflect their demeanors when they were younger, which haven't changed much from today. (They're still goofy, even as I write them emails about editing this piece!) 
Like any good story, there's always a beginning, middle, and end, and as the ceremony progressed, their story within the ceremony progressed, too. Often, at weddings I'm not officiating, the wedding ceremonies reveal stories about the couple in a non-chronological order, but to keep guests engaged, it's more effective to speak about the couple through linear dialogue. Otherwise, guests will expend mental energy trying to piece together the timeline rather than simply being engaged in the storytelling. 
"On January 12th, 2015 at exactly 8:53pm, Dylan and Andrea began messaging each other on Facebook messenger. This wasn't any sign of pure commitment, as Andrea kindly responded with that "maybe sometime" the two of them could hang out together. A few Snapchat streaks and vertical messages later, that "sometime" became a lifetime together. "
While we tossed around the idea of having a unity corn dog in the ceremony (they LOVE the state fair), ultimately this idea was removed from the wedding ceremony. Trust me, I'm all for going to the state fair before a wedding and casually leaving with just a single corn dog, but sometimes, the simpler, the better. A wedding ceremony doesn't need to have tons of readings or cliched pieces to be good. Instead, the content – the couple's story – needs to be told eloquently in relation to their views on marriage. 
"Going in to it we didn't really know what to expect or how someone new would be able to write something so personalized, but you made the process super easy and fun!  We loved being able to be so involved throughout the process and see it all come together, and to see how you were able to pull so much from us rambling about our relationship and make it all a cohesive thing." – Andrea
Andrea and Dylan's Vendor Team
See More Featured Weddings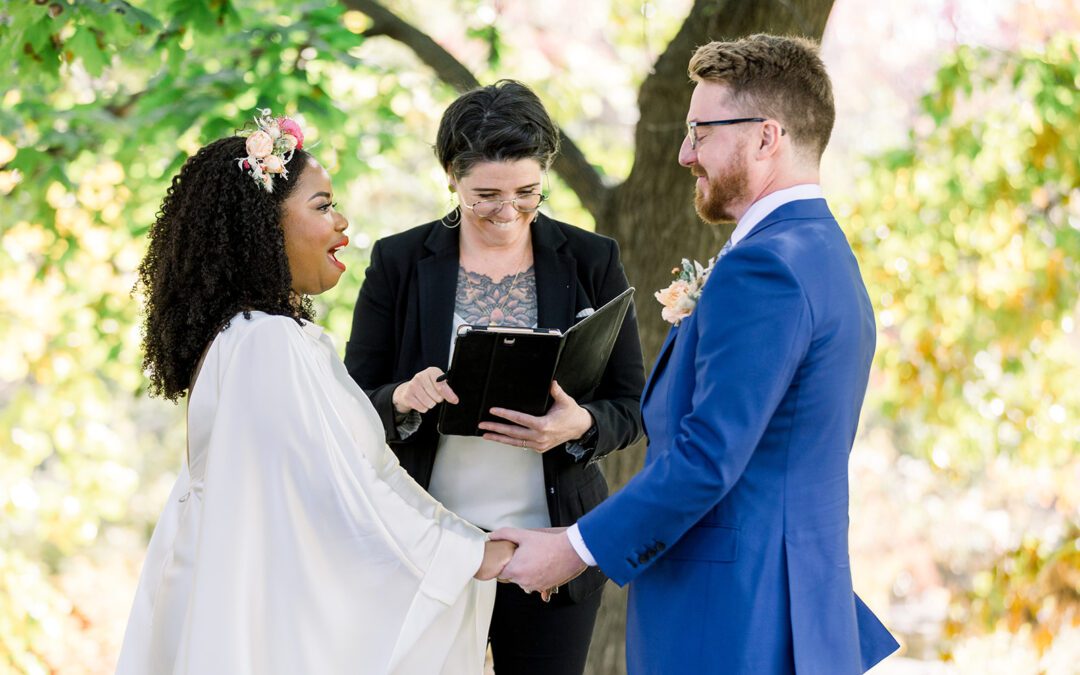 ChicagoAllana + Tim's Fall Chicago Elopement at the Alfred Caldwell Lily PoolCeremony InspirationWedding details: Season: FallReligion:...
read more
Book Your Ceremony
Once you've filled out this form, we'll get back to you within 24 hours to setup a video call. After the call, the contract we'll send you is valid for three days. We can't wait to meet you!
If you have any troubles filling out this form, contact us directly at [email protected].