3 Reasons You Need Live Music and a Pro Officiant for Your Wedding
Everybody's been to a wedding ceremony they don't remember. Maybe the processional had way too many folks in the wedding party, or the music played a little too late or a little too early, or the officiant dragged on and on and on. Naturally, it's easy to skip over the ceremony planning process and dive right into crafting beautiful floral arrangements, specific colors, trinkets with your memories, and heart-stopping reception speeches because everyone remembers the reception. 
While everyone else may have a sleeper of a ceremony, you don't have to. Sure, it may seem challenging to create a ceremony that captivates your guests' attention, but you only need two vendors to give your ceremony all the feels and certainly leave your guests crying, laughing, and sharing your ceremony experience with all of their friends. 
Hiring professional live music and an officiant can evoke some seriously stunning and light-hearted emotion throughout the ceremony your guests won't forget during the most important part of your wedding. 
Boom Island Strings and Liz Rae Weddings teamed up to provide three ways hiring this dynamic duo (or quintuple!) can make your wedding talked about for ages.
Photo Credit: Kaylah Hammer Photography
1.
Break your guests' expectations
Your guests are expecting the typical processional music played by a DJ and a cliché twenty-minute speech they heard at another wedding or on the internet previously. Your ceremony is the only part of the day truly unique to your story, and hiring professionals to officiate and provide live music provides 100% customizability to memorably share your story through your ceremony. 
As creatives, we want you to feel empowered to make your wedding ceremony personalized to you as a couple, and we are here to help! If you want the processional to be Canon in D, great! If you want to walk down the aisle to the theme from Harry Potter, we are all for that as well. Adding live music breaks the expectation of a track played over and over during your processional, and a ceremony that shares details about you two, details most of your guests won't know, invites them into your lives and prevents grandma from falling asleep. Nothing is more awkward than a snoring grandma right as you profess your love.
2.
Bring out all the feels
Listening to music is a sensory experience that has a powerful ability to evoke emotions through expertly timed transitions and notes. When you incorporate live music into your wedding ceremony, musicians are prepared to time the music perfectly to your processional and unity ceremony. Just like a movie soundtrack sets the tone for an emotional scene, music timed by live musicians can do the same! Professional musicians have the experience to accommodate transitions during your prelude, ceremony, and postlude that cannot be replicated by a Spotify playlist.
Another benefit to live music is that if the flower girl takes a little too long walking down the aisle or something happens unexpectedly during the ceremony, live musicians can whip up a few measures of music from songs of your choice to prevent awkward silences or repeated lyrics, often an issue from recorded pieces.  Not only does this provide that customized element you're looking for, it also helps your guests know how to feel during unplanned moments in addition to those that are planned.
3.
Engaging experience for your guests
Nobody likes to hear the same speech they've heard 1,000,000 times before at your wedding. Trust me, if you think nobody has heard the ceremony you pulled off Google, they have. While that might be a great option for some couples, a majority of couples want their guests to be a part of their story. A professional officiant has years of story training and knows how to write your story beautifully without any awkward references Uncle Joe might make if he was officiating. 
Additionally, having live music in your processional and recessional gives your guests something to actively pay attention to while waiting for you and your bridal party to walk down the aisle. There's nothing more spectacular than seeing artists in their element, especially if they're in their element for you!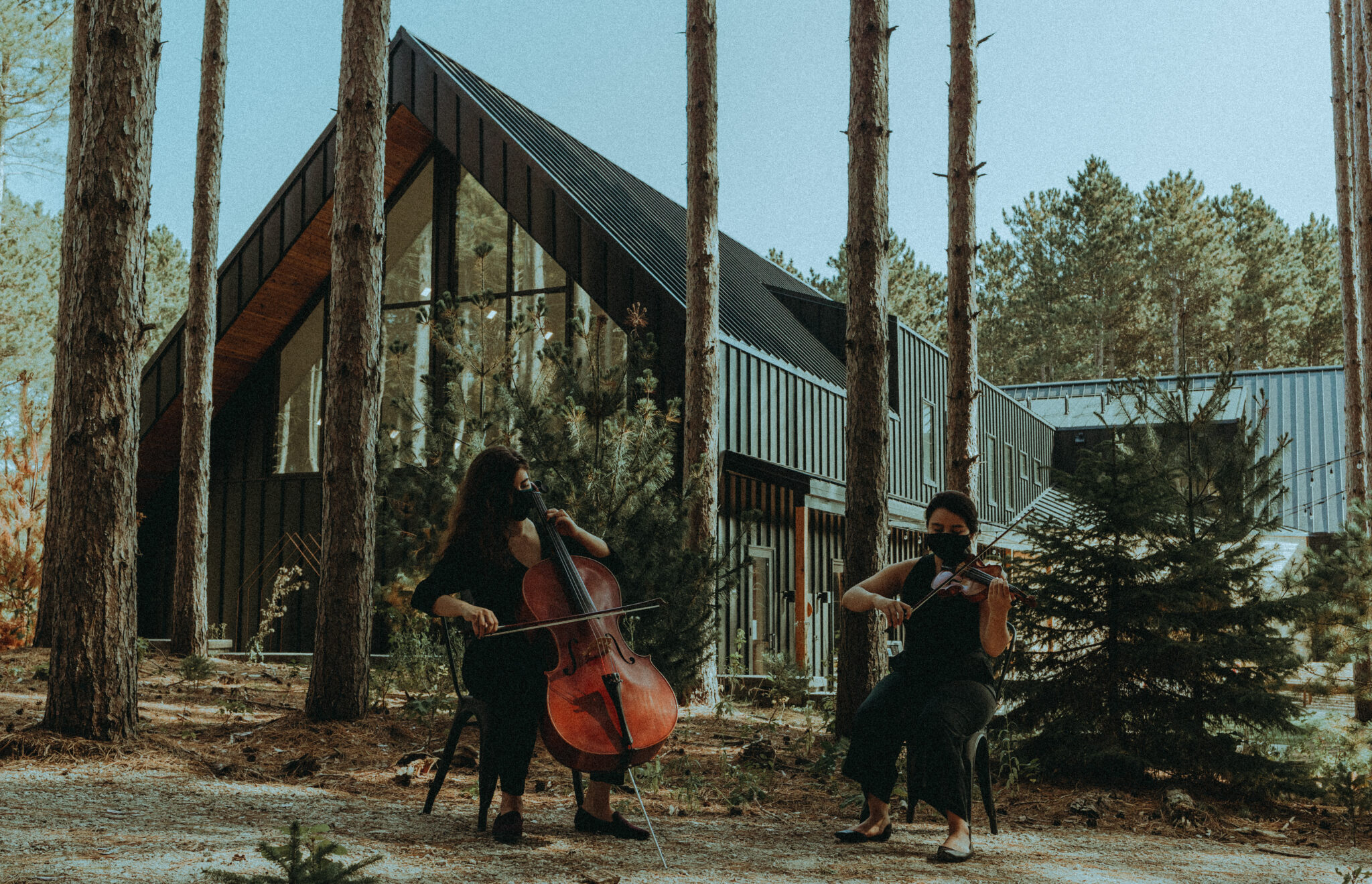 If this has you convinced to hire live music and a pro officiant, we're ready to make it happen! Boom Island String Quartet is a vibrant, multi-style ensemble drawing inspiration from classical, contemporary and folk playing styles to reimagine the iconic string quartet with bold, modern flavor. With a diverse repertoire spanning from classical favorites to popular songs, they aim to provide the ideal custom soundtrack for your special event. 
Liz Rae Weddings is a collective of story trained officiants with backgrounds in public speaking and writing to create 100% custom, modern ceremonies for your day. By the day of your ceremony, you'll know their officiants well enough to call them friends. Each ceremony gives back to the LGBTQ community and one hour is volunteered by Liz herself.
Recent Posts
Curious for more? Check out our other posts below for more ceremony and writing inspiration.
I love unity pieces in wedding ceremonies. Symbolizing our lives is a great way to think about where we are now, where we will go in the future, and who we might become. Though, I don't like unity pieces just for the heck of them.  If you're working with me and pitch...