Every now and then, I like socializing by reaching out to fellow vendors to get to know them so it's not super weird when I stalk their social profiles. 
I'm just kidding. I'm not that weird. Well….maybe I am. 
The first time I met Hailey, not only was I late for a personal reason (yes I know, feminine things), but I also had the location totally wrong. I'm almost always on time, so, not only is running late embarrassing but so is going to the incorrect location. In my defense, there are two breweries with basically the same name within a mile of each other in Minneapolis, and unless I'm at a wedding, I'm basically anti-social. How would I have possibly known?!
Cover Photo: Royal Hart Studio
An Inside Peek
Hailey is well-versed in going with the flow of an event, and is a strong believer in Michael Scott's rules of business – adapt, react, readapt, apt. She is committed to your big day going off without a hitch, so that you can get hitched. But in all seriousness, Hailey wants to make all of your Pinterest wedding daydreams come true before your eyes.
Hailey waited for some weirdo officiant she never met until I finally rushed in. Meeting her was immediately like catching up with an old friend. There's no awkward, boastful air of "I'm a wedding planner," but friendly conversation as if she already knew me the past million years. I vividly remember the conversation because speaking with Hailey for the first time wasn't like pulling teeth to make conversation. Instead, we talked about life and weddings and starting a business and while I can't recall how long we were there for, it had to have been at least two hours.
If you're planning a wedding, this is the kind of person you want to find – a person who's comfortable and friendly but also gets shit done. Hailey is the perfect combination of humble, kind, heartwarming, and an insanely talented designer and planner.
While most planners launched their companies after planning their own wedding or event, Hailey created her own blog during college with the goal of owning her own business. If you've seen her Instagram or been present at any of the weddings she's planned, it's clear she has an intuitive sense of design, which stems from her original plan of majoring in graphic design. Like most of us in college, she hated her design courses and met with her advisor shortly after to switch her major to organizational communication with a minor in event design.
Towards the end of college, Hailey landed an internship with a florist in the Twin Cities, and while she wasn't particularly interested in florals, she fell in love with flowers and then kicked off her career in weddings. "I started working at West Elm when I graduated college as a visual merchandiser, where I learned so much about form + function, and the art of building and designing large scale installations. From there, I got a job for a few years with another lead event planner + florist in the Twin Cities, and eventually started to feel like I was limiting myself by not jumping into the deep scary waters of being a small business owner! I planned and designed floral for my first Essen Events wedding in the Fall of 2017 and haven't looked back since!" Her career in weddings skyrocketed (minus COVID) from there.
Since she started her own company, she's absolutely become a massive force in the wedding industry. Nothing ever feels fake with Hailey – what you see online is exactly what you get from her. No extra fancy words, no unnatural headshot photos, no exaggerated excitement. Part of this derives from her deep care for the couples she works with beyond their wedding. "Our favorite clients to work with are those who value the actual getting married part over how their wedding is going to look. Don't get me wrong. I love a full-out, detail-filled wedding. But it tends to be easier to get to that extravagant looking event when the couple is so comfortable in their relationship that they can let their real authentic selves out during our planning meetings. That way, I can help guide them to the design choices that are going to feel the most like them." And she is authentic!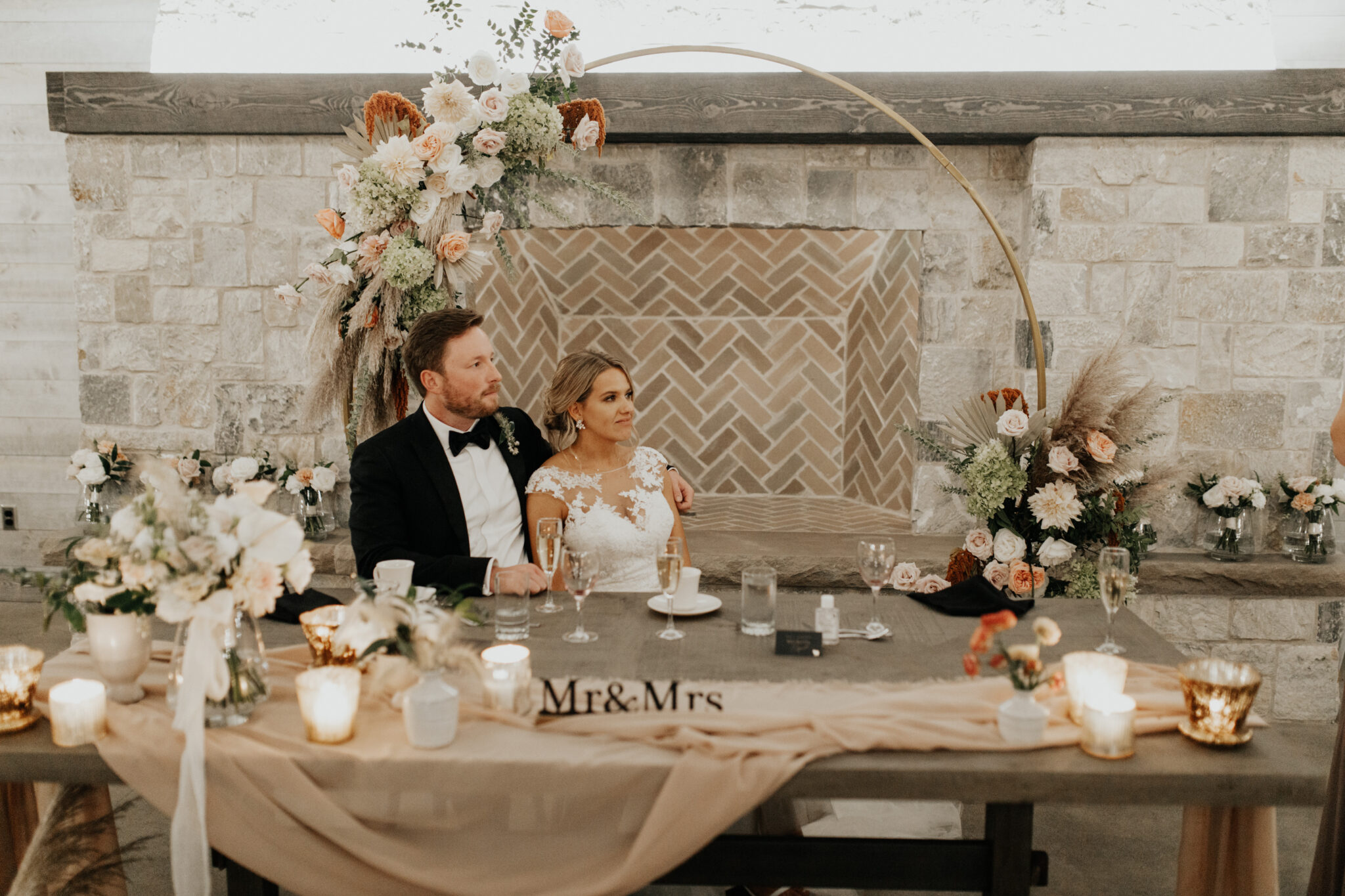 But of course, the pandemic caused unplanned hurdles for all of us in the industry. We've each experienced the emotional toll publicly on Instagram and Facebook, but the one person I have yet to see complain about the pandemic or anything at all is Hailey. Not only did most of her weddings postpone in 2020, but 2020 launched the first year she moved full-time in her business while planning her own wedding. "This year was supposed to be a big year of growth, with expanding our team to be able to take on more weddings. With the pandemic, we unfortunately weren't able to expand our team this year, and about 75% of our events got postponed to 2021. So, we're shifting! Next year will be our year for growth instead!" Honestly, if you don't hire Hailey for your wedding, you're seriously missing out on the most genuine and positive person you can find.
And I can't wait to see what she has in store for 2021, besides getting married herself and all.  "I'm excited to see our team grow and become a super supportive collaborative group of strong women! Eventually moving into a studio space where we can have a floral design area as well as a space to meet with other vendors and clients is a huge goal for the next 5 years!" You can definitely expect to find me creeping around whatever space she chooses because nothing is ever less than stunning with Hailey.
I've thrown Hailey about nine hundred different ideas to work together on, and for some reason, she's been completely open to them all. This was pre-pandemic. If she can deal with my crazy-butt self, you can only imagine how she's been a cool cucumber during 2020. "There have been SO many changes to wedding planning since COVID! Learning and keeping up with all of the state guidelines was a huge task to hurdle. Instead of just telling clients to pick 8-10 people to sit at each table for their seating chart, we now have to educate them on the current guidelines and make sure venues, vendors, and clients are all following those properly. Transitioning to so many more intimate ceremonies instead of a 150+ guest count event has actually been so much more fun, though. Our clients are embracing the changes and making their big days even more authentic and intentional."
Whether you're having five people at your wedding or five hundred, please hire Hailey. I don't usually ask whoever is reading these posts to do anything, but you really should. If you think having a wedding planner for a small wedding is weird, think again my friend! Because Hailey will feel just like one of yours.
Curious to learn more about her? Find her website and socials below!
Digging the info in this post? Have some of this pro knowledge in your wedding by booking us below!
If Tim hadn't shown up with his camera equipment to Yajit and Maria's wedding in the August of 2020, I would have thought he was a longtime friend...
read more